White landscape format 12573
Product customisation
Don't forget to save your customization to be able to add to cart
Our cover counters consist of 2 pieces joined by two golden hinges and a magnet on the inside and bottom.
The 2 pieces are:
A 1.8 cm wide frame that is installed fixed to the wall and that in turn serves as a showcase so that the counter box fits and stays hidden. It is available in 4, 8 and 12 cm deep and in black or white.
A fold-up front cover from bottom to top or from right to left and vice versa, consisting of a canvas printed with the chosen image, stapled from the back (staples are hidden) in a 1.5 cm thick by 3.5 frame cm wide.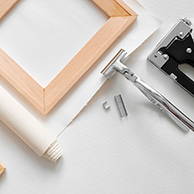 Data sheet
Orientation

Landscape format
Landscape format
Frame color

White