The paintings are high quality prints made by ourselves in our workshop, on a canvas. They are not painted.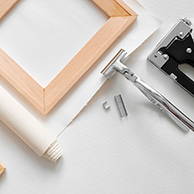 All the pictures are ready to hang. They do not need to be framed.
All the articles on the website are manufactured by ourselves, always ensuring a permanent stock. We are not importers.
The image continues on the side. We use the mirror effect technique, which is based on copying 5 cm from the inner end of each side of the image and duplicating it outwards, making a symmetry so as not to lose any of the frontal image.
All the digital files that we use in our pictures are of high resolution and comply with all the laws of reproduction right.
The size of the boxes that contain more than one piece, is measured from one end to the other, once the pieces are placed in the same position shown on the web. The size indicated in each case does not contain the separation between the pieces.
We recommend leaving 3 or 4 cm of separation between the pieces.