What pictures to hang in a bedroom?
Sometimes it is difficult to choose the painting that brings together the right format, size, theme and colors for our bedroom. We present you a collection of fun, elegant and grid-frame ideas to decorate your bedroom. You will find different themes and styles for all types of bedrooms.
You can find the painting you need for your bedroom according to its location
Best seller wall art for bedroom
What is your ideal canvas art?
There are countless models so it is normal that you do not know what paintings to buy for your room and that it responds better to your needs. In Cuadrostock.com we have classified them by theme so that you can find what you are looking for.
Trick for undecided: be guided only by the tone
The bedroom paintings are very varied both in motives, tones and formats. The ideal thing for a good rest is not to overload or saturate the room with strong colors, if not, with motifs that encourage relaxation and colors that blend in with the rest of the decoration.
There are many types of bedroom paintings, but all of them must meet one essential rule: they must not be garish, although they should not be unoriginal or artistic for that. Any place in our house is ideal for a good work of art to appear. What matters is what it transmits to us in each room and take into account when we will be able to admire it.

The bedroom is a place for rest, where we can disconnect and get away from daily stress. The main thing we are looking for is that it be an environment that radiates peace and therefore must have a certain order.

To keep order and space as comfortable as possible, it is best not to overload our room too much, therefore, what is most used to decorate a bedroom are paintings.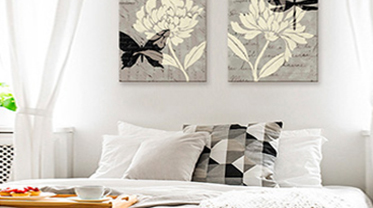 Other ideas and tips for decorating with pictures of the bedroom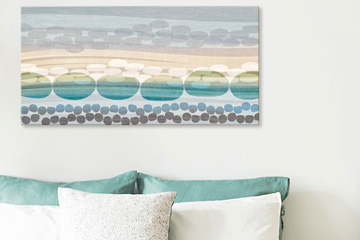 Many people will be surprised, but the use of abstract paintings for bedrooms is very widespread. Our room is a dreamlike and relaxing environment, likewise an abstract painting will transport us to these sensations and help us to relax.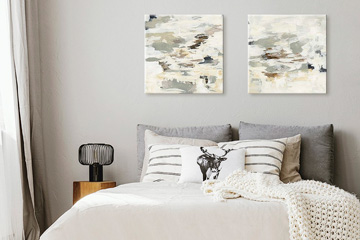 Having feng shui pictures for the bedroom is important for our day to day. It is very beneficial for our personal well-being to see something beautiful when we wake up and that makes us feel good. Feel the work and think about what inspires you and what you want it to convey in your life.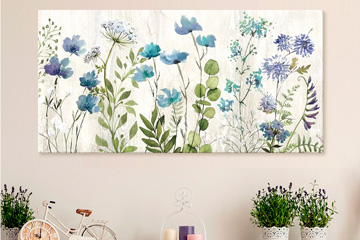 Decorating with pictures of flowers is a very good option for our living room. At the feng-shui level it generates very good vibrations and the wood element is very powerful. On a visual level it brings a lot of light and color to our room. In this sense, there are so many different types of flowers that we can combine them perfectly with our room.
Buying a painting online for your bedroom has never been so easy
From Cuadrostock.com we want to make it easy for you. We have spent a lot of time organizing and classifying all of our paintings to make it as easy as possible to find the ideal painting. Be it for the head of your bed, the bedside tables, your dresser or the corner you want to decorate.
In our online store you will find a wide catalog of paintings of all kinds: abstract, flowers, feng shui, romantics, etc. Discover them and choose your perfect painting!